The Big Apple, Niagara and Washington D.C.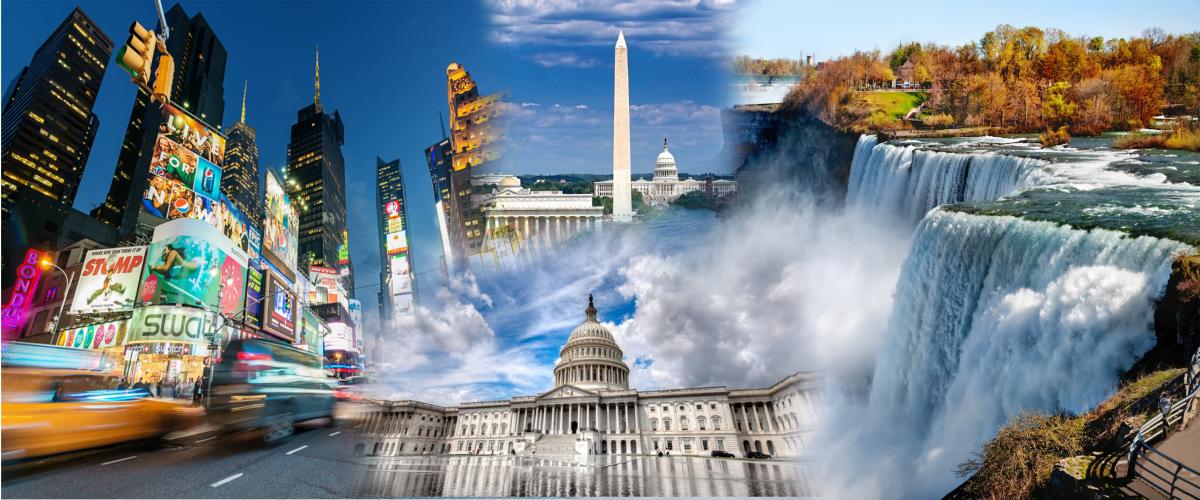 New York, Washington DC, Niagara Falls
$1349
Travel Itinerary
Welcome to Washington, D.C., the nation's capital. Get settled in at your hotel before meeting your Travel Director this afternoon.
Hotel
Wyndham Garden Washington D.C. North Best Western Parkway
Meet your Local Specialist for a guided sightseeing tour of Washington, D.C. and get introduced to many of the city's famous landmarks and monuments. See the Lincoln, Jefferson and Washington Monuments, WWII Memorial, White House, United States Capitol and other famous sights. The afternoon is free for you to pursue your own interests. Perhaps visit one of the several museums making up the Smithsonian Institution, the National Gallery, the Air and Space Museum, visit Mount Vernon Estate and Gardens-President Washington's popular plantation home in Virginia or perhaps join an illumination tour to see the famous monuments lit up at night.
Meal(s)
Buffet Breakfast
Enter Pennsylvania Dutch farming country, one of the largest settlements of Amish people. Join a Local Specialist and learn about the faith, culture and way of life of the Amish people who rejected modern technology in generations past and haven't looked back since. Experience one of the most interesting subcultures in the United States first-hand as you visit their farms, bakeries, markets, quilt shops and mills. Perhaps take an optional afternoon buggy ride or this evening, why not join an optional Amish family-style dinner featuring traditional Amish fare.
Meal(s)
Buffet Breakfast
Hotel
Wingate by Wyndham
Head northwest, crossing western New York State along a portion of the Susquehanna River and through the Appalachian Mountains before crossing the border into Canada and arriving at beautiful Niagara Falls late afternoon this for a two-night stay.
Meal(s)
Continental Breakfast
Hotel
Best Western Plus Cairn Croft
Of all the natural wonders east of the Mississippi, Niagara Falls is perhaps the greatest. The majesty, colours and roar of one of the Great Lakes dropping into the next is impossible to describe. See both the Canadian and American sides of the falls this morning as you cruise to the base of Horseshoe Falls. This afternoon is free for you to relax or explore further. Possibly partake in an optional excursion to quaint Niagara-on-the-Lake, visiting a local winery to taste ice wine.
Cross the border to the American side of the Niagara River into the state of New York. Travel through upstate New York through the Poconos and across New Jersey, arriving at your hotel late this afternoon for a two-night stay.
Hotel
The Paul, an Ascend Hotel Collection Member
Enjoy an Iconic Breakfast at a classic New York diner, the Brooklyn Diner, before a guided tour with a Local Specialist. Discover bustling Broadway, the Empire State and Chrysler Buildings, bohemian Greenwich Village, City Hall, Wall Street, Trinity Church and the 9/11 Memorial. The afternoon and evening are free for you to follow your own interests in the Big Apple. We have a selection of optional for you to choose from: select an optional cruise to see the Statue of Liberty, join helicopter high above the island of Manhattan or head to the "Top of Rock" to see amazing views from the rooftop of Rockefeller Center. This evening, perhaps choose to see the city at night during an illuminations tour or explore on your own visiting one of the many restaurants or Broadway shows New York City has to offer.
Meal(s)
Iconic Breakfast
Bid farewell to your Travel Director and newfound friends as your tour comes to an end.
Sightseeing Highlights
·Lancaster:
Sightseeing with a Local Specialist where you will learn about a simpler way of life from the Amish people
·New York City:
Sightseeing with a Local Specialist to see Broadway, the Empire State Building, the Chrysler Building, Wall Street and the 9/11 Memorial
·New York City:
Iconic Breakfast at Brooklyn Diner, a classic New York diner for a real Americana experience
·Niagara Falls:
Cruise the base of the breathtakingly beautiful and powerful Horseshoe Falls
·Washington, D.C.:
Sightseeing with a Local Specialist who will show you many of the most iconic buildings, monuments and memorials in D.C., including Lincoln, Jefferson, World War II Memorials, the White House and the US Capitol building
Dining
·4 Breakfasts
Travel Highlights
Audio Headsets Provided throughout your holiday to enhance your included sightseeing experiences
Luxury air-conditioned coach
Hand-picked hotels, all tried and trusted
Variety of Optional Experiences
An expert Travel Director and separate driver
All hotel service charges and tips, baggage handling fees and local taxes
Notes
Optional Experiences are subject to change. Your Travel Director will supply you with a final list of Optional Experiences available on your trip. Optional Experiences cannot be booked online; they can be purchased during your trip through your Travel Director.
Mount Vernon (VA)
·MOUNT VERNON ESTATES AND GARDENS VISIT
Adult Price: $20.00Embark on a full day excursion to include Mount Vernon, the former home of the first President of the Unites States, George Washington. You'll also visit Arlington National Cemetery and enjoy a quaint drive through Old Town Alexandria.
Washington DC
·ILLUMINATION TOUR
Adult Price: $39.00You'll be wowed by this illuminated overview of the nation's capital city at night! See the Capitol, the White House and the Jefferson Memorial. Visit the Kennedy Center for a rooftop walk and end the evening at the Iwo Jima Marine Corps Memorial. (Stops are subject to weather and local restrictions). Approx. duration: 2 hours
Bird In Hand
·AMISH BUGGY RIDE
Adult Price: $13.00Enjoy a ride through the Amish countryside on a horse-drawn wagon. You never know what you may see on the back roads during this 20-25 minute ride, be it children at recess at the one-room school, farmers plowing or harvesting with mules and horses, Amish roadside businesses, cows heading to the barn for milking, or Amish homes with the flowers and gardens. Travel as the Amish travel, and watch the world go by at a slower pace in the oldest Amish settlement in the world. Approx. duration: 20-25 minutes
·AMISH FAMILY MEAL
Adult Price: $42.00The Amish Home Meal is an all you can PA Dutch family style meal that is prepared at the kitchen of the Restaurant at Hershey Farm and is transported to the Lil Country Store and Miniature Horse Farm which is the homestead of Henry and Linda Stoltzfus and their family. The family, who is Old Order Amish, then serves and interacts with you during the meal which is served in the "dawdi" house (grandparents' house). You may also shop in the little store to purchase Amish made products and visit in the barn with the miniature horses! Approx. duration: 2 hours
Niagara Falls (ON)
·NIAGARA ON THE LAKE EXCURSION AND ICE WINE TASTING
Adult Price: $25.00Often touted as one of Ontario's most beautiful towns, Niagara-on-the-Lake is a quaint little town of 15,000 people, nestled on the shores of Lake Ontario where the Niagara River opens out into the lake. This beautiful and historic town used to be home for Ontario's parliament and it has the distinction of having the world's first anti-slavery law passed here in 1793. The architecture dates back to when the town was originally known as Newark - the first capital of Upper Canada in 1792. Niagara-on-the-lake offers many interesting attractions on the main street and surrounding area. Take a walk up and down the main street, admire the colonial architecture and explore the many rustic shops and eateries of this historic town. Some highlights on the main street are the Rocky Mountain Chocolate Factory, Greaves Jams & Marmalades, boutique ice cream shops and many other little family run boutique shops and cafes. The climate and conditions in the Niagara region make it one of the best areas in Canada for growing fruit and making wines, so we visit a boutique winery to learn about and taste the famous "Icewine." Elegant, silky, lush, decadent - wine critics wear out thesauruses describing Icewine. Year after year, the Icewines made by the Wineries of Niagara-on-the-Lake take the top awards at competitions around the globe. Approx. duration: 2 hours
·OH, CANADA EH? DINNER SHOW
Adult Price: $73.00The original all-Canadian musical experience! Located in Niagara Falls, the award-winning Oh Canada Eh? Dinner Show has entertained over 800,000 guests from around the world and is the seven-time winner of Niagara Falls Tourism's Attraction of the Year. Our two hour show features all-Canadian music; from maritime folk songs to modern pop. Come meet our singing Mountie, Hockey Player, Anne of Green Gables, Klondike Kitty and more. Full of laughs, this musical celebration of Canada will delight audiences of all ages. While you're enjoying the show, our performers serve our famous all-Canadian, family-style meal: French Canadian Pea Soup, Garden Salad, Fresh Bread, Alberta Grade Eh? Roast Beef, Lightly Battered and Fried Atlantic Haddock, Manitoba Roast Chicken, New Brunswick Vegetable Medley, PEI Potatoes and Maple Chocolate Cake for dessert. At what other restaurant are you served your dinner by a singing Mountie? A new, re-imagined version of the Oh Canada Eh? Dinner Show is now on stage. This high energy production features over 65 songs from all-Canadian artists including music from Celine Dion, the Bare Naked Ladies, Shania Twain, Avril Lavigne and Paul Anka. Approx. duration: 2 hours.
New York City
·LIBERTY HELICOPTERS BIG APPLE
Adult Price: $254.00New York City isn't called the "Big Apple" for nothing!! This very popular tour provides awe inspiring views of the Big Apple's most iconic landmarks. As you soar above the famous Hudson River you will fly right by the magnificent Statue of Liberty in all of her glory. Highlights include views of Governors and Ellis Islands, Manhattan's Financial District and the New Freedom Tower, the Empire State, Chrysler, Woolworth and Met Life Buildings, USS Intrepid and catch a glimpse of Central Park. Approx. duration: 12-15 minutes. Subject to weather conditions, availability and pricing may increase for high season after September dates.
·TOP OF THE ROCK OBSERVATION DECK ADMISSION
Adult Price: $32.00Top of the Rock Observation Deck is New York's most breathtaking view! Take your time to take it all in - it's a dramatic view of New York City you just can't get anywhere else. Three floors of indoor and outdoor decks offer stunning panoramas of the city's energy, wonder and beauty. Approx. duration: 1 hour
·ZEPHYR STATUE OF LIBERTY EXPRESS CRUISE
Adult Price: $28.00There's no better way to see the Statue of Liberty! Climb aboard for this 60-minute cruise and take advantage of the elegant amenities inside while admiring the spectacular sights outside. Narrated by informative and wildly entertaining guides, this tour will cruise by the legendary landmarks of downtown and pause at the feet of Lady Liberty. Capture perfect pictures from the breezy sundeck or from the climate-controlled inside. It's an unforgettable experience. Approx. duration: 1 hour.
Disclaimer
- These prices are correct at the time of the itinerary going live, however are subject to confirmation at the time of booking.
- All tour information is correct at time of tours going live, however is subject to change, please confirm all details at time of booking.
- For full terms and conditions, please contact our sales team.